5 Surprising Cities with Excellent Outdoor Activities
Every major city in the United States has something to offer a prospective traveler. But when it comes to opportunities outdoors, cities are often lacking for options, making it difficult for visitors looking for the right balance of urban and outdoor adventures. Destinations like New York, Las Vegas and Seattle are well known for striking [...]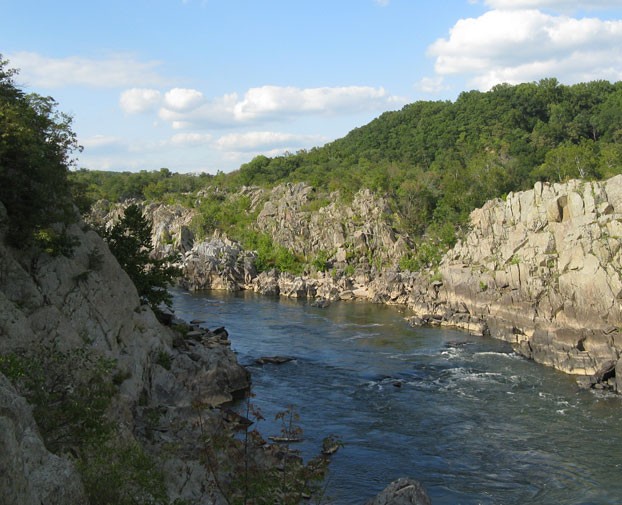 Great Falls Park outside Washington, D.C. Credit: National Park Service
Every major city in the United States has something to offer a prospective traveler. But when it comes to opportunities outdoors, cities are often lacking for options, making it difficult for visitors looking for the right balance of urban and outdoor adventures.
Destinations like New York, Las Vegas and Seattle are well known for striking this balance, and have attracted their fair share of visitors as a result. But with other places, looking for the great outdoors within a concrete jungle can be a little more challenging. Here's a list of places where you might be pleasantly surprised by the options available to an outdoor enthusiast:
1. Cleveland, Ohio
Given that Cleveland lies in the heart of an area commonly known as the Rust Belt, it's easy to forget that this city is located conveniently just a half-hour drive from Cuyahoga Valley National Park, the only national park in Ohio. American Indians referred to the area as Cuyahoga, or "crooked river," because of the water body's U shape, according to the National Park Service.
Points of interest within Cuyahoga Valley include Beaver Marsh, an area created by nature's architects along older portions of the Ohio and Erie canal; Brandywine Falls, a 65-foot-tall waterfall; and the Towpath Trail, a historic trail that mules used to walk to tow passengers. In warmer temperatures, hikers and cyclists can take advantage of the trail. During the winter, sledders and cross-country skiers take to the park.
2. Detroit, Mich.
On the surface, Detroit might not appear to have much to appeal to, well, any kind of adventurer. But outdoor enthusiasts will find something they almost certainly would not have expected in what was once a major industrial city: an island park with a view of downtown Detroit.
Although Belle Isle park seems to cater primarily to those who will only step on grass if they have a tennis racquet or a golf club in their hands, the island does have its fair share of nature walks and wildlife habitats. Belle Park is also home to the Anna Scripps Whitcomb Conservatory, which sits on an acre and hosts one of the largest orchid collections in the country.
3. Philadelphia, Pa.
Philadelphia might just appear to be a large urban jungle to anyone visiting, say, the Liberty Bell at Independence Hall in Center City. But the City of Brotherly Love is also home to Fairmount Park, a system of 63 parks totaling over 9,000 acres. That much space means plenty of activities for outdoor enthusiasts to pursue.
The Fairmount Park Art Association maintains a collection of outdoor sculptures throughout the city. Historic homes built in the 18th century, such as Hatfield House or Strawberry Mansion, in what was once the outskirts of Philadelphia offers a glimpse of the city's colonial heritage.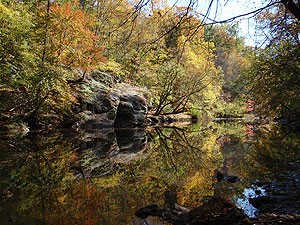 Wissahickon Valley in Philadelphia, Pa. Credit: L. Kolakowsky Smith/National Park Service
For nature lovers looking for the closest thing to a pristine wilderness that any major U.S. city could offer, Wissahickon Valley is the place for you. The area offers nearly 60 miles of trails within an 1,400-acre gorge suitable for hiking, biking or horseback riding. Along the way, visitors can expect to see local wildlife, including more than 100 species of birds, ranging from owls, woodpeckers, blue jays, wrens, doves, cardinals and many more.
4. Washington, D.C.
To travelers, the nation's capital might be best known for its collection of monuments and touchstones of history dating back to the founding of the United States. What often gets overlooked by most visitors to the District is the outdoor experiences available just a short drive outside the city.
Great Falls, an 800-acre park 12 minutes outside D.C., has something for outdoor enthusiasts of all stripes. Some 15 miles of hiking trails weave their way beside the steep cliffs lined up along the Potomac River. The canal ruins and the waterfalls for which the park draws its name are popular stops for visitors. These trails are also available for horseback riders (just bring your own horse).
For anyone looking to break a sweat, the steep rock walls within the park offer that opportunity for climbers. These climbs can range from about 30 feet to 60 feet or so. Kayakers can also paddle their way through the Potomac's thrashing waves.
5. Miami, Fla.
For some 12 million travelers that arrive in Miami every year, the great outdoors is pretty much confined to Miami Beach. Just an hour's drive outside the city, however, lies the Everglades, the largest wilderness area east of the Mississippi River.
For cyclists, or those who can bear the heat anyway, the Shark Valley Trails, which span 100 miles from Lake Okeechobee to the Gulf of Mexico, offer a glimpse of Florida's native wildlife, including alligators, birds, bobcats and otters. There are also a number of walking trails for anyone who prefer to get around on two feet instead of two wheels.
If you're looking to explore the Everglades without having to get out of your chair, airboat tours make taking in the outdoors a breeze — literally. They also typically offer guides to educate visitors about the environment and wildlife at the national park.