4-Year-Old Survives 11 Days Alone in Siberian Forest
Karina Chikitova was found emaciated but alive, after enduring freezing temperatures, with only berries to sustain her.
Credit: Alan Majchrowicz/Getty Images
Wide, Wild World
With everything that progress has brought in our modern world, it's refreshing to know that there are still places on the planet that are virtually untouched -- places where humans haven't completely tainted the environment. Some areas may be on the fringe of impurity, but fortunately there are several lucky locations have been designated as conservancies, so that future generations can remember them as we have. Here are ten of these places of our wide, wild world:
Northern Territories of Canada
Sparsely populated mostly by people of native North American Indian and Inuit descent, Canada's three northern territories -- Yukon, Northwest Territories, and Nunavut -- still retain lifestyles before European colonization of the New World. Sure there is a Western influence, but locals still fish, hunt, and gather in the pristine, forested wilderness as they have been for centuries.
Credit: <a href="http://www.flickr.com/photos
Siberia
Above the 50th parallel on the other side of the world lies Siberia, a place almost synonymous with desolation. Like the Canadian North, this wild expanse is also mostly comprised of taiga forest on former glaciated territory -- areas that are blanketed white during harsh, long winters.
Credit: Erik R. Trinidad
The Galapagos
Tourism may be a huge draw to this Ecuadorian archipelago in the Pacific, but a lot of money collected here goes towards the conservation of its numerous islands-land its wildlife. It is here that animal species are specialized on each island's unique environments -- including marine iguanas, blue-footed boobies, and frigatebirds -- that research about them became an integral part of Darwin's Theory of Evolution.
Credit: Michele Falzone/Getty Images
Seychelles
The Seychelles may be a well-sought out islands beach destination, but tourism hasn't completed tainted them. In fact, this archipelago nation in the Indian Ocean has the largest percentage of land under conservation by law, of any country in the world -- about 50 percent -- which is good news for the over 2,000 endemic species that live there.
Credit: Erik R. Trinidad
Antarctica
Being on the bottom of the world brings forth the coldest, windiest, and driest conditions on the planet. It's no wonder most of it is untouched by man. Besides a few research bases scattered sparsely around the icy continent, Antarctica is virtually uninhabited -- except by the iconic penguins of course, who might want to leave themselves if only they had the ability to fly -- and if they hadn't been adapted for the extreme conditions already.
Credit: Paul Piebinga/Getty Images
The Sahara
The Sahara may be the second largest desert in the world -- Antarctica, with only 2" of rain per year is technically the world's biggest desert but it certainly is the biggest one you think of when you conventionally think about the desert ecosystem. With 3.5 million square miles of barren land full of wind-carved sand dunes, it brings forth daytime heatwaves and harsh dry conditions unappealing to most civilizations; it's wild because most people couldn't live there.
Credit: TED MEAD/Getty Images
7. The Gobi Desert
Situated in Mongolia, the largest desert in Asia is actually growing, with sands overtaking grasslands in northern China -- which isn't good news for Chinese farmers. Perhaps it's Mother Nature's way of taking back her sandy wilderness, making conditions uninhabitable for humans.
Credit: Andrea Pistolesi/Getty Images
The Amazon
It it believed that the cures for many of mankind's diseases could be found in the Amazon Rainforest -- the world's largest -- which encompasses most of northern inland South America. Plenty of conservancies want to keep it this way, for the Amazon is under constant threat of deforestation for the timber industry and cattle ranching, amongst other consequences of progress.
Credit: Diane Cook and Len Jenshel/Getty Imag
Papua New Guinea
Papua New Guinea's environment is also its defense mechanism. Its rugged terrain of rolling volcanic hills and thick tropical rainforest have made it difficult for outside companies to exploit its natural resources. It's also made it hard to establish a transportation network, leaving the wilderness for the most part, undisturbed.
Credit: iStockphoto/Thinkstock
The Briny Deep
It's astounding that with everything humans have done to inhabited a lot of the landmass on the planet, about 70% of it remains uninhabited because it is water. The oceans, vast and seemingly limitless, are an innerspace full of many things that we probably don't even know about yet. It's taken centuries for humans to actually explore the deepest part of the ocean, Mariana's Trench, and we only saw a mere fraction of it. There's a whole wild world within our world, yet to be explored-or remain untouched?

Moscow: A four-year-old girl was recovering in hospital on Wednesday after being lost for nearly two weeks in a bear-infested forest in the Russian far north with only her puppy to defend her.
Karina Chikitova was found emaciated but alive at the weekend, having survived 11 days in the Siberian wilderness in freezing night-time temperatures with only berries to sustain her in what rescuers said was nothing short of a miracle.
The little girl had left her tiny village in the Sakha republic with her dog on July 29 to go and stay with her father who lived in a neighbouring hamlet.
But her father had gone to fight a wildfire and the girl apparently set off by herself into the forest to find him.
With no mobile phone signal in the sparsely populated region where native Yakut people live from hunting and reindeer herding, her mother only realised after four days that her daughter had set off on her own into the dense forest.
Despite a massive search, Karina was still not found for over a week, the breakthrough only coming when her puppy traipsed back to the hamlet in which only eight people live allowing rescuers to send search dogs on the puppy's trail.
"We were sure that the puppy was next to the little girl all this time, warming her at night and scaring away wild animals," rescuer Afanasiy Nikolayev told the Zvezda TV channel.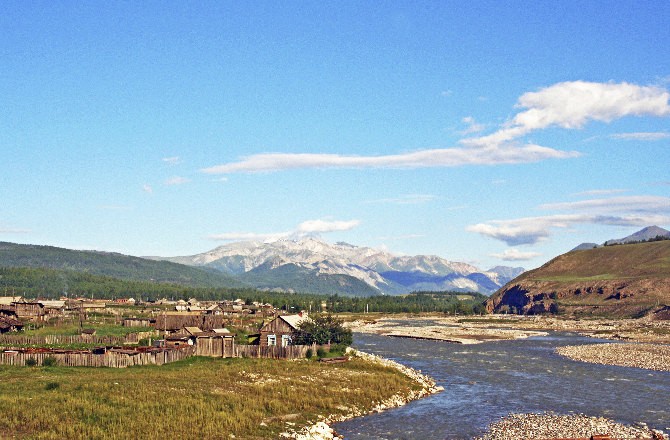 Village in Russian SiberiaThinkstock
When the dog came back "we thought this is it" for Karina, as temperatures in the area had already dropped below freezing at night.
A report on the channel said the search party kept to creeks and meadows, going into the forest only in the presence of special forces because there are so many bears in the area.
The search team came across Karina's footprints two days later and found her lying in tall grass about six kilometres (four miles) north of her village, shaken but alive.
By then she had lost her shoes and was walking barefoot and had lost a considerable amount of weight.
Television pictures showed the wide-eyed girl in a T-shirt and leggings just after she had been found gulping water before being carried onto a helicopter.
She said she ate berries and drank water from the river to survive.
The Sakha region in northeastern Russia is one of the country's most remote, known for its icy rivers, permafrost, and rich wildlife that includes reindeer and brown bears.
Sakha governor's office said Karina was in the main regional hospital in the city of Yakutsk and is recovering well.