3,000lbs of Bacon in 3 Days: It's the Blue Ribbon Bacon Festival
If you're a meat eater, chances are you love bacon. Apart from vegetarians and those disinclined to eat pork, who can resist a crispy slice of the good stuff? At the Blue Ribbon Bacon Festival, the obvious answer is, no one. The event drew 4,000 bacon lovers to Des Moines this year. In fact, it's [...]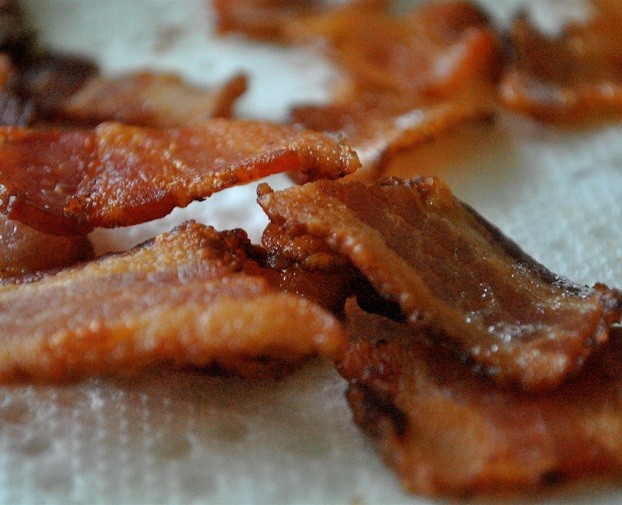 If you're a meat eater, chances are you love bacon. Apart from vegetarians and those disinclined to eat pork, who can resist a crispy slice of the good stuff? At the Blue Ribbon Bacon Festival, the obvious answer is, no one. The event drew 4,000 bacon lovers to Des Moines this year. In fact, it's become so popular, they've taken the show on the road.
The 2012 festival, held in February, was the fifth of its kind. Sprawling over the Iowa State Fairgrounds, bacon purveyors worked to outdo one another, coming up with a stunning variety of mouth-watering, gut-busting offerings. Here are some highlight dishes, rounded up by the Des Moines Register:
Bacon-infused doughnut ball topped with chocolate and more bacon

Templeton Rye pork tacos

Bacon butterscotch cupcakes

Bacon sausage

Bacon meatballs

Bacon-wrapped jalapenos
But you don't have to travel all the way to Iowa to wander the Mecca of bacon. In June 2011, the Blue Ribbon Bacon festival headed to Keystone, Colorado for three days, serving more than 3,000 pounds of the tasty meat. This month, it returned to the ski area for a weekend of fatty, delicious fun. So far, the festival hasn't added any other locations to its list, but it's only getting more popular, so there's a good chance one may pop up near you in the next few years. Here's hoping.
Can't wait for the next festival? Satisfy your craving with some of our favorite bacon stories: