$26K Bounty on Pachyderm-Shooting Punk
A $26,250 reward awaits anyone with information leading to the arrest of the perpetrators who shot a circus elephant in a drive-by in Mississippi. ->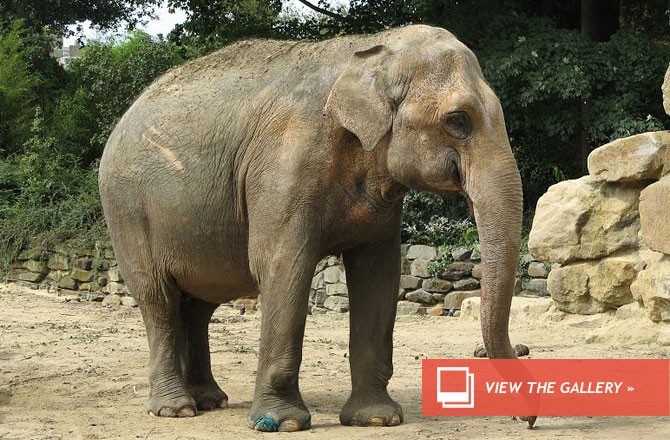 A drive-by shooting wounded Carol, a female Asian elephant touring with the Ringling Bros. and Barnum & Bailey Circus. The shooting occurred at 2 a.m. Tuesday in Tupelo, Miss., outside the Bancorp South Arena, reported the AP.
A $26,250 reward awaits anyone with information leading to the arrest of the perpetrators who pumped lead into the pachyderm. People for the Ethical Treatment of Animals offers a further $5,000 reward.
NEWS: Can Drones Save the Elephants?
Veterinarians treated a dime-sized entry wound on the elephant's shoulder. The pistol-popped pachyderm pulled though and is now active, mobile and appears comfortable, according to the U.S. Fish and Wildlife Service (USFWS). Veterinarians expect Carol the elephant to make a full recovery while she recuperates. She will not be performing during her convalescence.
Anyone with information concerning the shooting of the elephant should contact the USFWS Grenada Office of Law Enforcement at 662-227-0990, the USFWS Jackson Office of Law Enforcement at 601-965-4699, or CrimeStoppers at 800-773-8477.
Asian elephants are an endangered species. Only approximately 35,000 Asian elephants remain in the world, which is roughly the population of Tupelo, Miss., noted the USFWS.
NEWS: Ivory: The New Blood Diamonds
Feld Entertainment, Inc. producer of Ringling Bros. and Barnum & Bailey Circus contributed $10,000 to the $26,250 reward fund, according to a USFWS news release. George Carden Circus International contributed $10,000. U.S. Fish and Wildlife Service contributed $5,000. Crimestoppers of Northeast Mississippi contributed $1,000. Former 1st Congressional District Representative Travis Childers contributed $250.
IMAGE: An Asian elephant (Donar Reiskoffer, Wikimedia Commons)