24-Year-Old Goldfish Going Strong: Four-year-old Paul Palmer won his goldfish, Sharky, at a fair when he hooked a ducky. Palmer is now 28, reports Chronicle Live.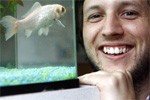 Sharky has survived being flushed down the toilet; his owner once thought he was dead, but he swam back up the pipe.
Sharky's secret to longevity? Only having lived in two bowls his whole life, and eating fish flakes, according to Palmer.