2013 May Tie for 4th Warmest Ever
Globally averaged temperatures put this year on track to tie 2002 as the fourth warmest on record. Continue reading →
Global average temperatures from January to November of 2013 put this year on track to tie 2002 as the fourth warmest year on record.
The National Oceanic and Atmospheric Administration's preliminary report revealed that 2013′s average land and ocean temperatures were 0.62 degrees Celsius (1.06 Fahrenheit) above the 20th century average between January and November. The 20th-century global average was 12.9 degrees C (55.2 F) for those months.
So far in 2013, global land temperatures averaged 0.98 degrees C (1.82 F) above the long-term average, which was also a tie with 2002 for fourth highest. Ocean temperatures in 2013 were a bit lower at 0.48 degrees C (0.86 F) above the average of the past 134 years. That made 2013′s ocean temperature average a tie with 2006 for eighth warmest.
BLOG: This Map Shows Where To Expect A White Christmas
In 2013, the western United States continued to parch in an ongoing drought that contributed to devastating wildfires, like the one that scorched the Big Sur region of California this week. That fire is now 88 percent contained, reported the AP. However, California now heads into its third consecutive dry winter with no relief on the horizon, according to AccuWeather.
This November melted heat records. November 2013′s average land and sea temperatures set the record for warmest November ever in the 134-year period for which data exists. Global average temperatures were 0.78 degrees C (1.4 F) above the 20th century average.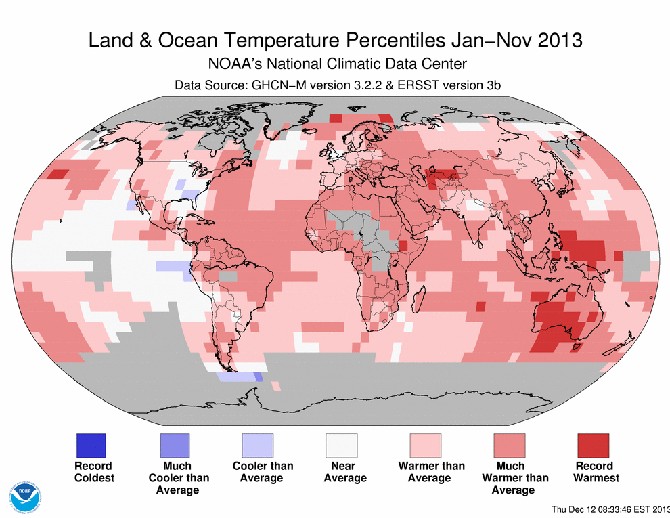 Russia in particular suffered a warm November. Roshydromet, Russia's meteorology agency, reported that areas of the Ural Mountains, Siberia and the Arctic islands in the Kara Sea experienced temperatures that were more than 8 degrees C (14 F) higher than the November average.
ANALYSIS: Ice Age Drove Split Between Reindeer and Caribou
Russia had its warmest November since records began in 1891, when second-to-last Tzar Alexander III was in power.
November wasn't the only warm month this autumn. The period from September to November was the third warmest ever on land, at 1.08 degrees C (1.94 F) above average.
Although Australia had a cooler than average November, the temperature average for September through November was still the warmest ever recorded Down Under.
Photo: iStock. Map: Global Temperature Percentiles Jan.-Nov. 2013 (NOAA)