18.1 Second Belch Wins World Burping Championship
In most places, burps are a reason for scolding, especially if they're not followed by an apologetic "excuse me." Luckily for those who value the belch as a form of expression and a cause for pride, there's the World Burping Federation (WBF), which just crowned the first World Burping Champion in New York City. The [...]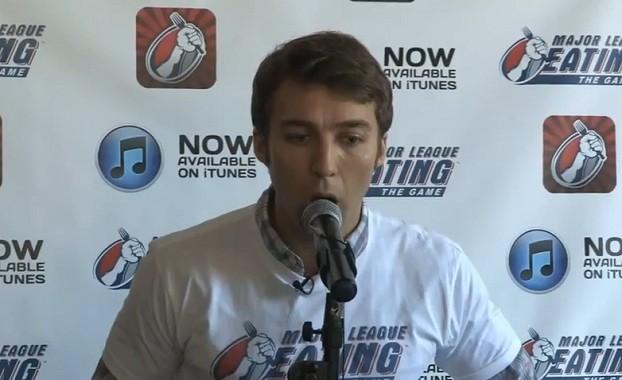 Tim Janus, mid-burp. Image via YouTube screenshot.
In most places, burps are a reason for scolding, especially if they're not followed by an apologetic "excuse me." Luckily for those who value the belch as a form of expression and a cause for pride, there's the World Burping Federation (WBF), which just crowned the first World Burping Champion in New York City. The winner: competitive eater and pizza chef Tim Janus, with a burp lasting 18.1 seconds.
Janus, who doesn't look at all like Homer Simpson (as some would expect), is actually quite trim, and bears a resemblance to Edward Norton. But Janus' medium is the burp, not the silver screen. The WBF called the event, held on June 8, the first Burping World Championship. In the video below, Janus explains his method: he gulps air, then drinks a lot of soda to compress it and add some bubbles the mix. The result is a belch that Sebastian Rothschild, executive director of the WBF, called "at once mournful and full of hope."
The contest was held at the Hudson Station Bar and Grill, and sponsored by 'Major League Eating: The Game', a competitive eating app for the iPhone and iPad. The WBF says Janus' 18 second behemoth is a world record for a burp performed in open competition. The official Guinness World Record for longest burp ever is an astounding 1 minute, 13 seconds, set by Italian Michele Forgione in 2009.
If you think you're capable of belching like a champ, the WBF has five regional competitions scheduled for the next year, in Mumbai, Majorca, St Paul, Sao Paolo, Bangor and Frankfurt. So start practicing!