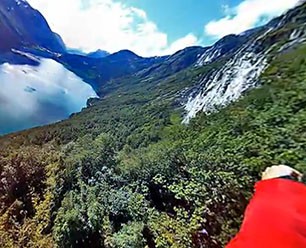 Photo via Innovation Norway at visitnorway.com
We've showcased many BASE jumping/wingsuit flight videos here on Discovery.com; humans soar through the air, sometimes through waterfalls, or with skis, through a natural Chinese tunnel, or in slow motion like superheroes. Now, with 360° video capture technology, Innovation Norway is promoting tourism to the Scandinavian country with a new interactive BASE jumping/wingsuit flight video, brought to our attention by The Goat. The short, but breathtaking interactive video simulates the flight with a complete panoramic view that you can control via mouse or arrow keys.
The BASE jump and subsequent wingsuit flight was captured on video near Flo, a small village in the western part of Norway. Two pilots fly with a bird's eye view of Lake Oppstrynsvatn, and land safely to inspire future travelers — and adrenaline junkies — to visit the wilderness of Fjord Norway. While the video may be cool to play with on a computer, I'm pretty sure it doesn't do the actual experience any justice.
To learn more about how you can travel to Norway and fly with a wingsuit in reality, check out Visit Norway.