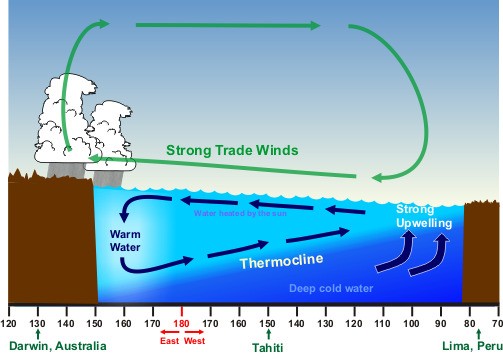 It's a girl!
La Niña, Spanish for "the girl child," was born in August of this year, and the World Meteorological Organization (WMO) recently predicted that the phenomenon will last into early 2012, in a press release.
The WMO also forecast that La Niña won't be as much of a destructive brat this time. They believe La Niña won't be as intense as the previous occurrence from September 2010 to May 2011, which is good news for areas afflicted by La Niña influenced floods and drought, most notably the Horn of Africa.
Discovery News reported on the humanitarian crisis in Africa provoked by La Niña's bad behavior and on the her brother's influence on violent conflict in the tropics.
BLOG: East Africa Drought Linked to La Niña
La Niña is the term for unusually cool ocean surface temperatures in the central and eastern tropical Pacific. La Niña is the opposite of El Niño. Both phenomenon are part of El Niño Southern Oscillation and can have strong effects on global weather patterns.
La Niña has different weather effects depending on the location. According to the WMO press release, here is what to expect around the planet.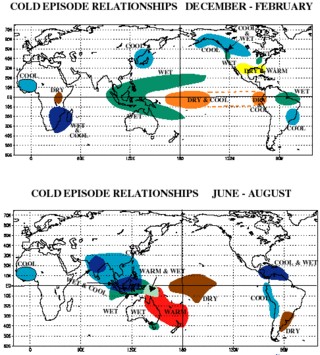 Africa:
Increased rainfall in southern Africa

Rainfall deficiency in equatorial eastern Africa
Asia:
Major parts of the Philippines experience near normal to above normal rainfall

Above normal rain in Indonesia and Thailand
Australia:
Usually, but not always, above normal rainfall during the second half of the year

Daytime temperatures are typically cooler than average

Tropical cyclone risk for northern Australia increases
North America:
Drier than normal conditions in Southwestern parts of the United States

Drier than normal conditions also typically occur in the Central Plains

Pacific Northwest is more likely to be wetter than normal
South America:
Increased rainfall in North Eastern Brazil, Venezuela, Colombia and northern Ecuador

Below normal rainfall on the coast of Ecuador, the Bolivian plains, central and south Chile, northern Argentina and Uruguay
IMAGES:
A diagram of the La Niña phenomenon (NOAA, Wikimedia Commons)
La Niña's relative effects on different regions (NOAA, Wikimedia Commons)