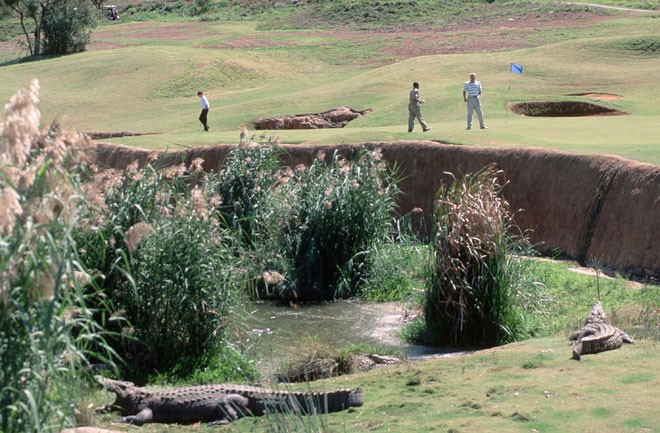 Flooding on Sunday allowed 15,000 crocodiles to escape a farm in South Africa after the farmer opened the gates to prevent storm surge inundation. The local Beeld newspaper reports that only half of the escapees have since been recaptured.
Many of the crocodiles that fled the Rakwena Crocodile Farm returned to the Limpopo River, where the farm has collected some of their keep. The river is the second biggest in South Africa.
The Limpopo Province flooding has killed 10 people and left many stranded.
Zane Langman, the son-in-law of the farm's owner, told the Beeld newspaper that he took a boat to rescue friends in a flooded house on Sunday. "When we reached them, the crocodiles were swimming around them. Praise the Lord, they were all alive," he said.
The heavy rains have also forced the evacuation of tens of thousands of people from their homes in neighboring Mozambique.
IMAGE: A crocodile lurks near a water trap near the 13th hole of the Palace of the Lost City golf course. Several golfers on the green opposite the trap do not seem to notice. Sun City, Bophuthatswana, South Africa. (Corbis)